$45.00
AUD
Category: History
Loving Country is a book that inspires ultimate respect for Mother Earth and the role of her custodians. While readers are encouraged to discover the sacred country of Australia in an open-minded and sensitive manner, the intention of this book is to foster communication and understanding between all pe oples and country, to bring about a range of environmental and social changes. Co-authors Bruce Pascoe and Vicky Shukuroglou hope to empower communities to tell their own stories, and for people to honour them and the country from which they have grown. Beautifully designed, all of the writing and photography in Loving Country has been created in consultation with communities. From the ingenious fish traps at Brewarrina and the rivers that feed the Great Barrier Reef, to the love stories of Wiluna and the whale story of Margaret River, there is so much to celebrate and admire about the oldest continuing culture in the world. For those who want to do more than a whistle-stop tour of Australia, this book offers some keys to unlock and reveal the heart of this loving country. ...Show more
$19.99
AUD
Category: Biography | Series: Picador Classic | Reading Level: very good
With an introduction by P. J. O'Rourke 'Do not read this book in public. You will risk severe internal injuries from trying to suppress your laughter.' Sunday Times I was born in 1939. The other big event of that year was the outbreak of the Second World War, but for the moment that did not affect me. I n the first instalment of Clive James's memoirs we follow the young Clive on his journey from boyhood to the cusp of manhood, when his days of wearing short trousers are finally behind him. Battling with school, girls, various relatives and an overwhelming desire to be a superhero, Clive's adventures growing up in the suburbs of post-war Sydney are hair-raising, uproarious and almost too good to be true ...Told with James's unassailable sense of humour and self-effacing charm, Unreliable Memoirs is a hilarious and touching introduction to the story of a national treasure. A million-copy bestseller, this classic memoir is a celebration of life in all its unpredictable glory.   ...Show more
The Mallee: A Journey Through North-West Victoria (HB)
by Adam McNicol (Text by, Photographer); Erin Jonasson (Photographer); Phil Campbell (Designed by, Photographer); Andrew Chapman (Photographer); Noel Butcher (Photographer); Melanie Dove (Photographer); Heather Ewart (Foreword by); Jaime Murcia (Photographer)
$59.99
AUD
Category: History
Between 1880 and 1930, a series of schemes brought thousands of settlers to Victoria's Mallee region. At the same time, a number of railway lines were constructed through the area, with towns constructed approximately every 10 miles. Now, almost a century after the settlement schemes ended and the depop ulation of the Mallee began, a team of Australia's best rural documentary photographers, along with writer Adam McNicol, who grew up in the Mallee town of Manangatang, retrace the railway lines to see what remains. The result is a stunning photo book, containing over 150 full colour images. 'The Mallee: A journey through north-west Victoria' is a portrait and celebration of the small communities that dot north- west Victoria and the people who call them home. The book, which has a foreword by 'Backroads' presenter Heather Ewart, captures life in the small towns of the Mallee and on the farms that surround them. One particular focus is the growing interest in the area from tourists, who in recent years have flocked to the Silo Art Trail and Lake Tyrrell, breathing new life into a region becoming famous for its brilliant sunsets and hospitable locals. ...Show more
$34.99
AUD
Category: Social Sciences
TECHNOLOGY IS EVOLVING AT THE FASTEST RATE WE'VE EVER SEEN, BUT IT MAY BE THE SLOWEST RATE WE'LL EVER SEE AGAIN! What does this mean for the future of the human race? Do we resist these changes or embrace them?Australian biomedical engineer, inventor and visionary Dr Jordan Nguyen has lived a life of cu riosity and wonder - exploring positive opportunities in science and technology, including robotics, artificial intelligence, bionics, extended reality and avatars. He believes that technology is a powerful tool that we as humans can choose to harness to create a better tomorrow.In A Human's Guide to the Future, Dr Jordan takes us on a journey through the big innovations being developed around the world, along the fun and amazing rollercoaster of his own adventures, and to envisage where our collective future is headed.Written by one of this generation's most exciting voices, this is a book that will deepen your understanding of new and emerging technologies and fuel your imagination at the dawn of what will be the most transformative era in human history. ...Show more
$49.99
AUD
Category: History | Series: Jonglez Photo Bks.
Barren red deserts dotted with post-colonial ghost towns, dilapidated inner city factories, discarded country homesteads and a succession of dormant, soot-filled power stations are just a handful of the desolate, yet visually rich narratives that form part of the abandoned Australia landscape. Digging b eneath the sun-baked soil, Shane Thoms uncovers the modern ruins scattered over this arid continent and reveals a series of beautifully broken abodes hiding in the crevices of the Great Southern Land. Whispering of both long-gone happy family moments and human darkness, of working lives and the everyday pursuits of living, these atmospheric scenes allow us to reconstruct the stories of the past. Prompting conversations about a growing, diverse country with a complicated history, these abandoned places both connect as well as contrast the past and the present and chronicle the hidden remnants of the evolving Australian story. ...Show more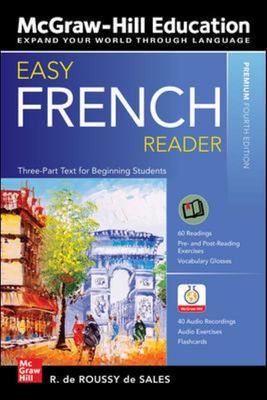 $29.95
AUD
Category: Travel
Start Reading in French Immediately and Build Your Language Skills in No Time Whether you're a brand-new beginner or an advanced-beginning learner, the Easy Reader series enables you to dive into the language with engaging readings that progress in difficulty to match your growing reading skills. This p rocess will allow you to rapidly build comprehension and confidence as you enjoy the stories and complete the post-reading exercises.EASY FRENCH READER is divided into three parts: Part I describes the adventures of two friends, an American and a Parisian, as they learn about their respective cultures. As you read about their experiences, you'll discover the nuances of language and culture right along with the students.Part II describes episodes in the colorful history of France, from ancient Gaul to the present, offering biographical sketches of famous personalities, including Joan of Arc, Louis XIV, and Charles de Gaulle.Part III is comprised of four abridged short stories by famous French authors that allow you to practice your grammar and vocabulary skills on authentic works of French literature.The bonus app that accompanies this book provides: FLASHCARDS to aid memorization of all vocabulary termsAUDIO recordings of numerous reading passagesRECORD-YOURSELF feature to improve your pronunciationAUTO-FILL GLOSSARY for quick reference ...Show more
$14.99
AUD
Category: Travel | Series: Phrasebook Ser.
Lonely Planet French Phrasebook & Dictionaryis your handy passport to culturally enriching travels with the most relevant and useful French phrases and vocabulary for all your travel needs. Ask about tucked-away vineyards, bargain with local farmers at the market or order wine like a professional; a ll with your trusted travel companion. With language tools in your back pocket, you can truly get to the heart of wherever you go, so begin your journey now! Get More From Your Trip with Easy-to-Find Phrases for Every Travel Situation! Feel at easewith essential tips on culture, manners, idioms and multiple meanings Order with confidence,explain food allergies, and try new foods with the menu decoder Save timeand hassles with vital phrases at your fingertips Never get stuck for wordswith the 3500-word two-way, quick-reference dictionary Be preparedfor both common and emergency travel situations with practical phrases and terminology Meet friendswith conversation starter phrases Get your message across with easy-to-use pronunciation guides Inside Lonely Planet French Phrasebook & Dictionary: Full-colourthroughout User-friendly layoutorganised by travel scenario categories Survival phrasesinside front cover for at-a-glance on-the-fly cues Covers Basics -time, dates, numbers, amounts, pronunciation, reading tips, grammar rules Practical -travel with kids, disabled travellers, sightseeing, business, banking, post office, internet, phones, repairs, bargaining, accommodation, directions, border crossing, transport Social -meeting people, interests, feelings, opinions, going out, romance, culture, activities, weather Safe Travel - emergencies, police, doctor, chemist, dentist, symptoms, conditions Food -ordering, at the market, at the bar, dishes, ingredients The Perfect Choice: Lonely Planet French Phrasebook & Dictionary,a pocket-sized comprehensive language guide, provides on-the-go language assistance; great for language students and travellers looking to interact with locals and immerse themselves in local culture. About Lonely Planet: Started in 1973, Lonely Planet is the world's leading travel guide publisher with guidebooks to every destination on the planet, and has been connecting travellers and locals for over 25 years with phrasebooks for 120 languages, more than any other publisher! With an award-winning website, a suite of mobile and digital travel products, and a dedicated traveller community, Lonely Planet enables curious travellers to experience the world and to truly get to the heart of the places they find themselves. ...Show more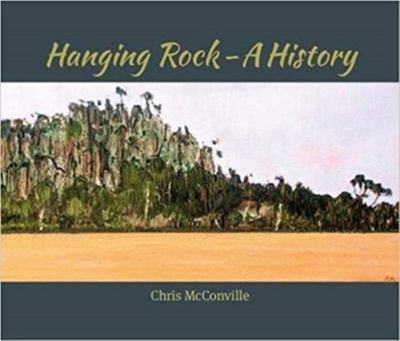 $29.99
AUD
Category: History
Hanging Rock Reserve is a popular recreation arena, north of Melbourne. At its heart stands the Rock itself, a massive volcanic outcrop rising above undulating forest and farmland. Hanging Rock is celebrated as the site of outdoor concerts by popular music legends such as Bruce Springsteen and Leonard C ohen. Great Australian artists and pioneer photographers came to Hanging Rock, trying to capture its enigmatic spirit. What's more, Joan Lindsay's novel, Picnic at Hanging Rock, and Peter Weir's 1975 film of the same name, have added to that aura of mystery surrounding Hanging Rock. Visitors wonder if, as in both novel and film, a group of schoolgirls really did vanish there, during a St Valentine's Day picnic in 1900.Hanging Rock though has a deeper history. Its fortress-like rock walls fascinate all who visit the recreation reserve, and are the result of rare volcanic events, some six million years ago. For thousands of years, Hanging Rock was a meeting place for Aboriginal people, a centre for barter in greenstone and the site of ceremony. It has been at the centre of disputes, between farmers using its water, and picnickers holidaying in the reserve. Hanging Rock horse races are much loved as the classic bush meeting. But horse racing, gambling and drinking within a recreation reserve have raised the ire of environmentalists and anti-gamblers. There have been many plans to `improve Hanging Rock; to turn it into a quarry, a zoo, or a theme park. But despite all the grandiose schemes, Hanging Rock still holds a special place in the Australian imagination. This is the story of how Hanging Rock survived all of these `improvements, to remain a special place for visitors, an icon of global popular culture, and a place that raises new questions about Aboriginal history. ...Show more
$22.99
AUD
Category: History
Dark Emu argues for a reconsideration of the 'hunter-gatherer' tag for pre-colonial Aboriginal Australians and attempts to rebut the colonial myths that have worked to justify dispossession. Accomplished author Bruce Pascoe provides compelling evidence from the diaries of early explorers that suggests that systems of food production and land management have been blatantly understated in modern retellings of early Aboriginal history, and that a new look at Australia's past is required. ...Show more
$49.99
AUD
Category: Science
Aimed at both the novice and experienced beekeeper, and supported by over 350 photographs and drawings, this is the ultimate guide to Australian beekeeping. Chapters cover equipment, including the Flow Hive; colony management; pests and diseases; extracting honey; the bee-friendly garden; entering honey in competitions; and native bees. The Australian Beekeeping Manual is the most comprehensive reference for both novice and experienced beekeepers in Australia. The accessible yet detailed text, supported by over 350 full-colour photographs and illustrations, covers all the key areas, including the beekeeping equipment needed, how to obtain bees, where to locate them in the garden, and the basics of colony management. There are also in-depth chapters on the lifecycle of the honey bee, extracting honey, creating a bee-friendly garden, entering honey in competitions, pests and diseases, native bees, and rearing queens. A feature of this 2nd edition is the addition of a new chapter on the Flow Hive. The result is an invaluable beekeeping resource that will be referred to time and again, and which can be taken out to the hive for use as an immediate step-by-step guide or read at leisure. ...Show more